Available in Washington, DC, Maryland, Virginia and Long Island, New York
Cheap gas near me
Score the cheapest gas prices at gas stations nearby + unique cash back offers

See low gas prices
See prices at nearby stations, choose from all the big brands

Earn cash back every time you buy
Save again and again at the same station or choose new ones
BP
$2.38 / Regular
12¢ /gal
Streets Market & Cafe
10% cash back on
$50+ purchase

Shell
$2.35 / Regular
15¢ /gal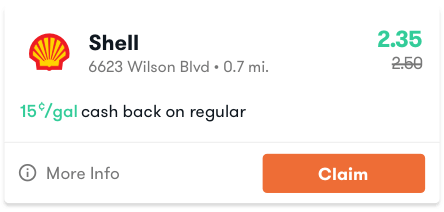 Earn real cash
No minimum balance — get cash anytime via Paypal

Pay with loyalty programs
GetUpside provides extra savings to most big brand deals
How GetUpside gets you the best gas prices in the area:
Claim an offer at a gas station near you
Fill your tank & pay with any debit or credit card
Snap a picture of your receipt
That's it! You'll pay the gas prices on the station sign, but we'll give you cash back, and you can cash out anytime via PayPal or check. Cha-ching.
Want more cash back offers?
See how GetUpside works at: