You are using anoutdated browser. Pleaseupgrade your browser.
Stop blindly offering discounts
that cannibalize your profits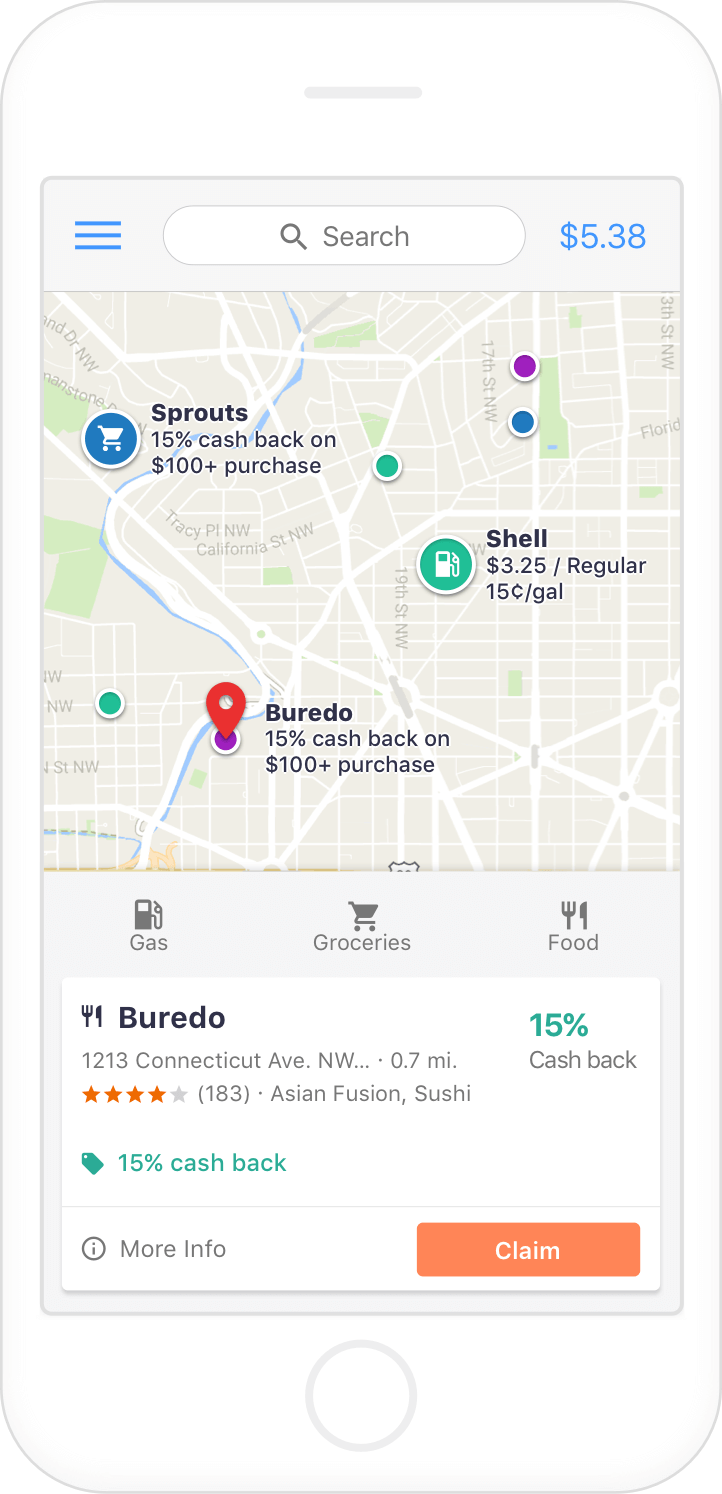 GetUpside is a consumer app that brings you new diners and increases existing customers' visits to your restaurant, through personalized offers.
Guaranteed ROI
Pay only for proven results
You are missing out on diners nearby
Thousands of GetUpside users are transacting at businesses each day — many within one mile of your restaurant. When those customers are looking for a place to eat, let GetUpside send those customers to you instead of nearby restaurants.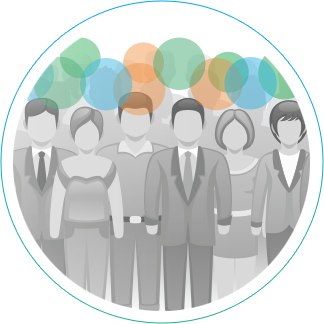 Get started in minutes, with no risk:
No software or hardware
No training
No work to run
No contracts
With GetUpside, you pay only for new visits and increased visits,
not expected visits
Mirroring the technology applied by sophisticated online retailers, GetUpside's personalization algorithm ensures that offers will always be profit-increasing.
There's hidden value in all of your processing data. GetUpside seamlessly taps into this data to power our platform.

No change to register operations

GetUpside uses this data to determine which GetUpside app users have never visited your restaurant, and when your existing customers are expected to visit again.

New Customer

Expected to visit
2x/month

Existing Customer

For people who have never visited, GetUpside delivers personalized offers that bring them to your restaurant.

New customer

Offers for new customers will vary based on each
user's activity within the GetUpside app.

For expected visitors, GetUpside delivers offers to increase their average visits per month. You only pay for incremental profit.

Expected visit 1

Expected visit 2

Increased visit

You pay only when:

You get new,
profitable customers

Your existing customers spend more
It's business as usual for all of your staff when GetUpside app users visit your restaurant
No need to train your servers, no changes to your dining operations, no work at all.
And unlike coupons or discounts, customers still pay full price for their meal before receiving their GetUpside cash back -- so tips are never affected.
GetUpside app users nearby see an offer for your restaurant

When the check arrives, they pay the full amount with any credit or debit card, and snap a photo of their receipt

They'll receive their cash back directly in the app -- no action needed by you or your staff
Watch as 'business as usual' gets better each day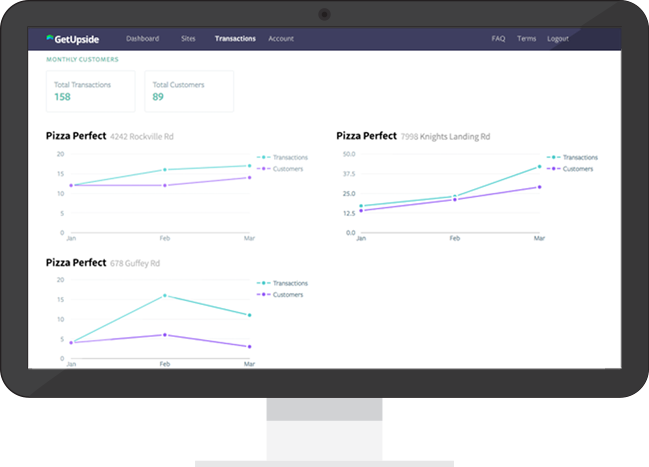 We believe you shouldn't run any promotion without knowing how much more money you are making via that promotion than you would make without it. This is known as return on promotion or return on investment (ROI). ROI is central to our approach. With GetUpside, ROI is measured, and it's proven, daily.
There are many dining deal and coupon services,
but none of them offer GetUpside's proven ROI and transparency
| | Loyalty programs | Other New Customer Acquisition Tactics | GetUpside |
| --- | --- | --- | --- |
| No new software or hardware | | | |
| Increases new customer transactions | | | |
| Increases existing customer visits | | | |
| No change in operation or employee training | | | |
| Does not cannibalize expected sales | | | |
GetUpside personalizes every offer using data-based customer acquisition technology, ensuring that you'll make incremental profit on every receipt.
Happy, loyal diners delivered to your business
I use this app on a weekly basis. I have recommended it to my friends and they love it.
Great app! Gets you the best prices + cash back
Learn more about GetUpside
Request a call or in-person demo from Abby or Hank by filling out the form below.