You are using an outdated browser. Please upgrade your browser.
The way people grocery shop is changing

Grocery delivery services

Increased prepared food purchases

Increased takeout and dining out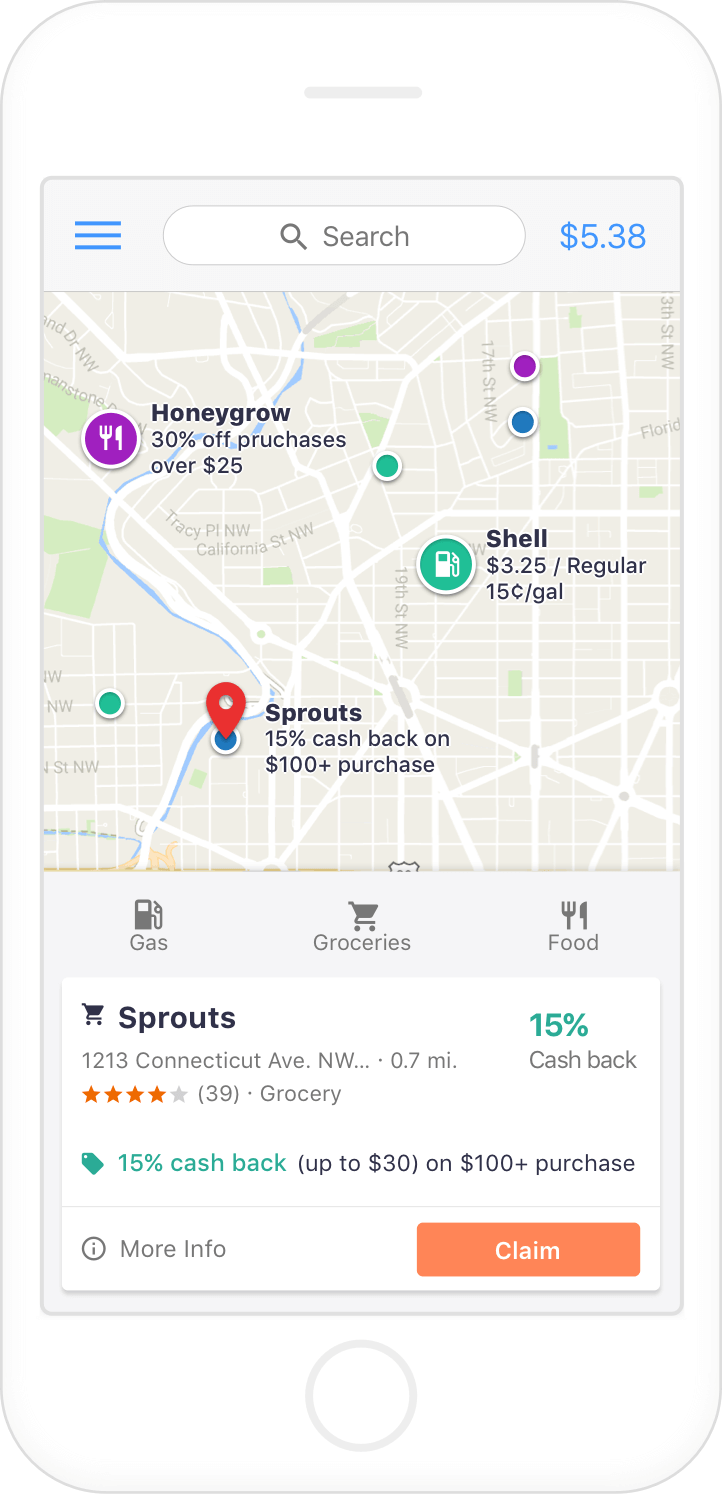 Even amid these changes, GetUpside puts your business in a position to thrive by delivering personalized offers that attract new customers, and that get your existing customers to bounce back more often with larger basket sizes.
Guaranteed ROI
Pay only for proven results
You are missing out on shoppers nearby
GetUpside app users are transacting at businesses each day — many within one mile of your grocery store. When those shoppers need to make a grocery store trip, let the GetUpside app send them to you, and not competing supermarkets.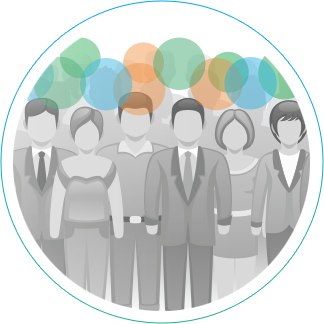 Get started in minutes, with no risk:
No up-front costs
No contract term
No POS setup
No work to run
GetUpside puts your data to work
Mirroring the technology applied by sophisticated online retailers, GetUpside's personalization algorithm ensures that offers will always be profit-increasing.
GetUpside captures transaction data from anonymized records of your historical receipts

No change to register operations

GetUpside uses this data to determine which GetUpside app users have never purchased at your store, and the frequency, profitability, and average basket size of your existing customers

Historical basket
size average: $0

New Customer

Historical basket
size average: $40

Existing Customer 1

Historical basket
size average: $55

Existing Customer 2

The GetUpside app brings you new customers, and gets your existing customers to increase their basket size, profitably

5% cash back

(up to 5$)

on $45+ purchase

New customers visit your grocery store for the first time

5% cash back

(up to $5)

on $55+ purchase

Existing Customer 1 bounces back sooner

3% cash back

(up to $5)

on $70+ purchase

Existing Customer 2 increase her basket size

You pay only when:

You get new,
profitable customers

Your existing customers spend more
When GetUpside app users visit your grocery store, it's business as usual
No need for any cashier training or checkout procedure changes.
GetUpside app users in need of groceries see offers for your store

When they visit your store, they pay with their usual debit or credit card, and snap a photo of their receipt

They receive their cash back directly in the app — no action needed by you or by your staff.
Watch as 'business as usual' gets better each day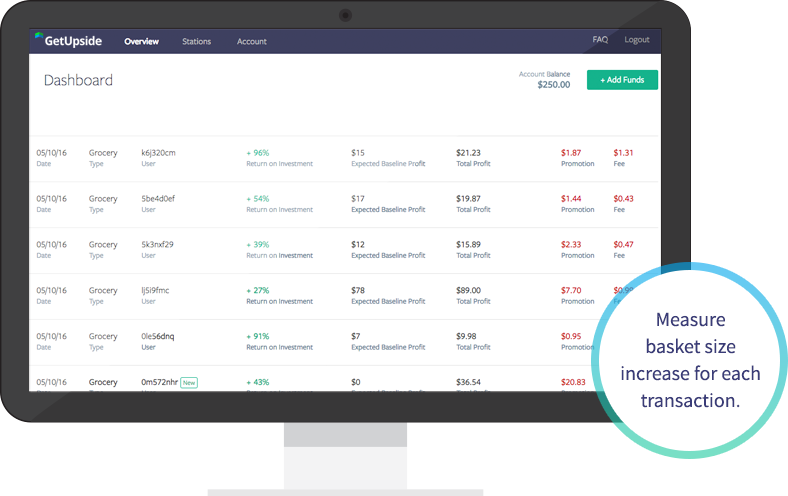 We believe you shouldn't run any promotion without knowing how much more money you are making via that promotion than you would make without it. This is known as return on promotion or return on investment (ROI). ROI is central to our approach. With GetUpside, ROI is measured, and it's proven, daily.
Accepting branded coupons and gas + grocery discounts may be unavoidable, but adding GetUpside will ensure that you increase profit, transparently.
| | Loyalty programs | Coupons | Investing in Price | GetUpside |
| --- | --- | --- | --- | --- |
| You pay only for proven results | | | N/A | |
| Offers guaranteed to increase profit | | | | |
| Doesn't cannibalize existing customers | | | N/A | |
| Competitors can't see and match offer | | | | |
| No set-up or training required to run | | | | |
GetUpside personalizes every offer using data-based customer acquisition technology, ensuring that you'll make incremental profit on every receipt.
The way people grocery shop is changing
Love this app, wish I would have found out about it sooner. I've got my whole family using it.
I'm so lucky my favorite grocery store is on GetUpside. Every time we grocery shop we earn cash back!
Learn more about GetUpside