You are using an outdated browser. Please upgrade your browser.
Win your competitor's customers
without lowering your sign price.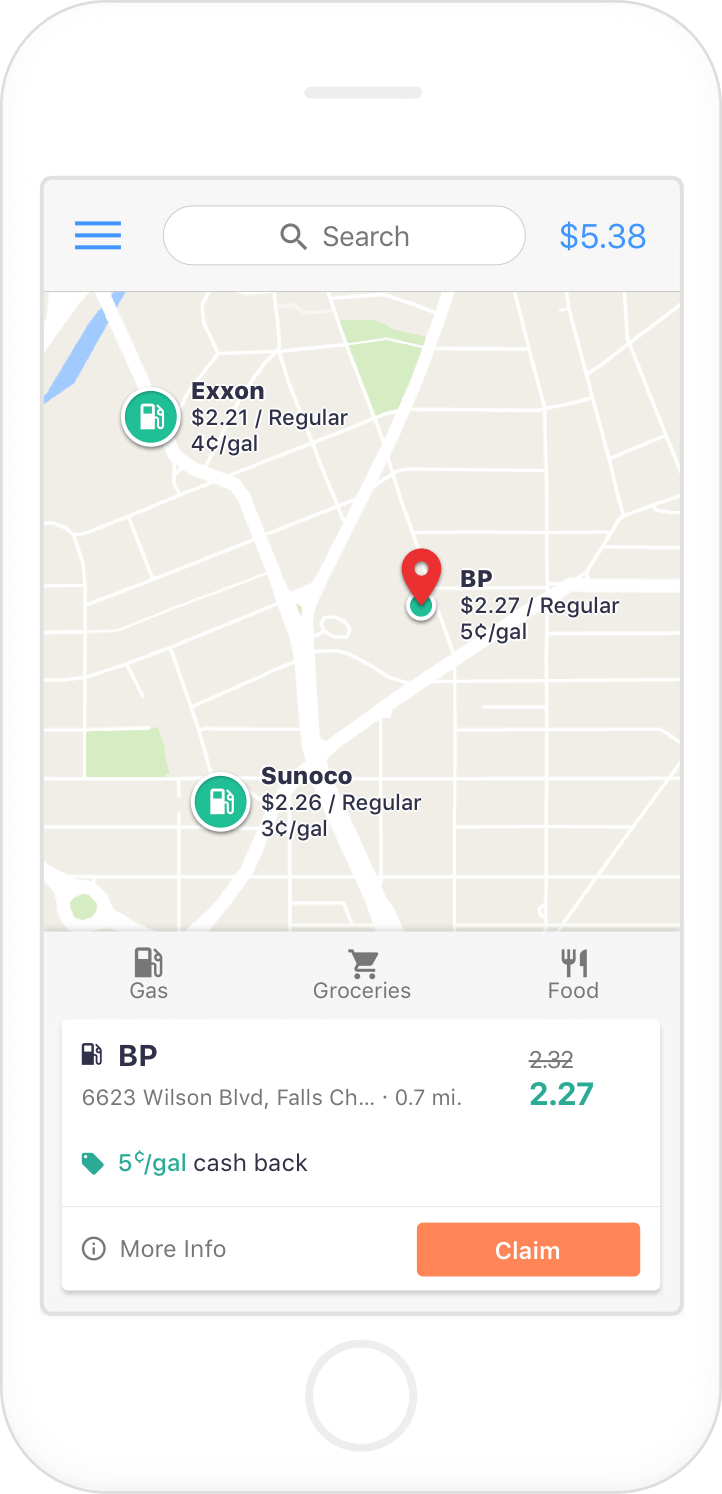 GetUpside is the only solution available to petroleum marketers and dealers that delivers incremental petroleum purchases with measurable and proven ROI.
GetUpside knows which nearby customers aren't visiting your station, and attracts these new customers to your station through personalized offers based on their transaction history.
No work to run
Guaranteed ROI
Pay only for proven results
You are missing out on potential customers nearby
Thousands of GetUpside users are transacting at businesses each day — many within one mile of your gas station. List your station in the GetUpside app and we'll drive that business to your station, and not to one of your competitors.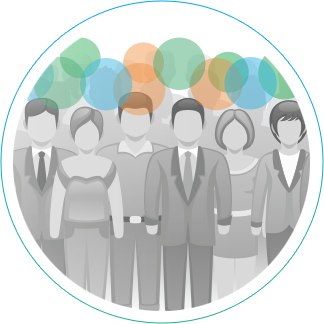 Get started in minutes, with no risk:
Pay only for performance
No employee training or involvement to run
No hardware, software, or POS upgrades
No monthly or recurring fee
No contract term
Tap into transaction data to increase profits
Mirroring the technology applied by sophisticated online retailers, GetUpside's personalization algorithm ensures that offers will always be profit-increasing.
GetUpside captures transaction data from anonymized records of your historical receipts

Takes just minutes to set-up

No change to your POS or staff operations

No change to register operations

GetUpside uses this data to determine which GetUpside app users have never visited your station, and the frequency, profitability, and average margin of your existing customers

New Customer

Expected to visit
1x/month

Existing Customer 1

Expected to visit
2x/month

Existing Customer 2

GetUpside offers bring you users who have never visited your station.

New Customer

Deals for new customers will vary based on each
user's activity within the GetUpside app.

For expected visitors, GetUpside delivers personalized offers to increase their average visits per month. You only pay for incremental profit.

Expected visit

Increased visit

Expected visit 1

Expected visit 2

Increased visit

You pay only when:

You get new,
profitable customers

Your existing customers spend more
When GetUpside app users visit your station, it's business as usual for you and your staff
GetUpside app users receive a personalized offer to visit your station

When the visit, they pay with their usual debit or credit card, and snap a photo of their receipt

They'll receive their cash back directly in the app -- no action needed by you or your staff
Watch as 'business as usual' gets better each day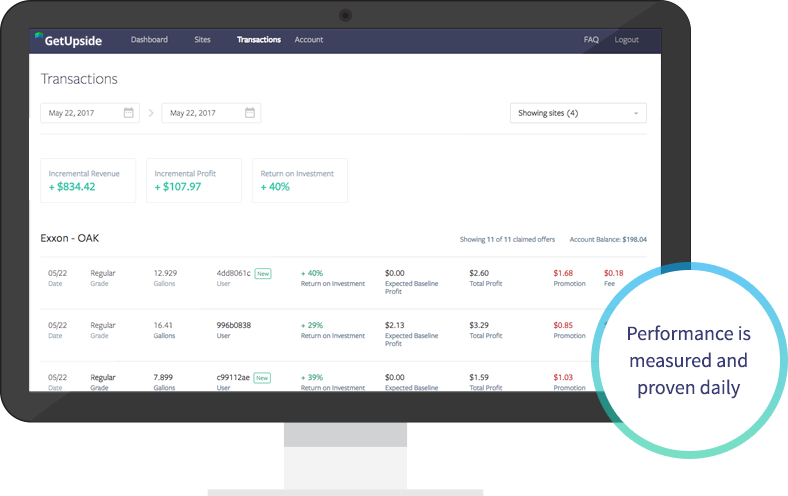 We believe you shouldn't run any promotion without knowing how much more money you are making via that promotion than you would make without it. This is known as return on promotion or return on investment (ROI). ROI is central to our approach. With GetUpside, ROI is measured, and it's proven, daily.
GetUpside can work alongside your existing programs,
but there's no contest when it comes to driving prover ROI.
| | GetUpside | Fleet Card | Traditional Loyalty Program |
| --- | --- | --- | --- |
| No POS integration or up-front costs | | | |
| Increases new customer transactions | | | |
| Increases profits per transaction | | | |
| Doesn't cannibalize existing customers | | | |
| You pay only for proven results | | | |
GetUpside personalizes every offer using data-based customer acquisition technology, ensuring that you'll make incremental profit on every receipt.
Happy, loyal customers delivered to your business
I use this app on a weekly basis. I have recommended it to my friends and they love it.

The app showed me that apparently I have a Sunoco gas station in my neighborhood which I didn't know even existed, and the discount was 14 cents. Wow!
Learn more about GetUpside