BP
$2.38 / Regular
12¢ /gal

Megamart
$10 cash back on
$50+ purchase

Shell
$2.35 / Regular
15¢ /gal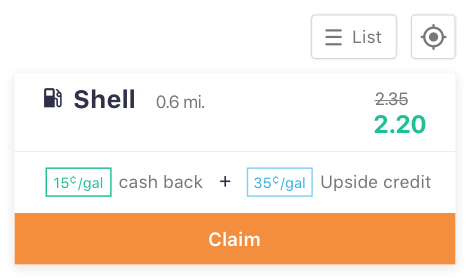 See what people are saying about Upside.
It works and is so easy! Saving $$$$
It's amazing!!! I have saved a ton of money with this app!!!
I am up to $36 after 4 months for not doing anything more than buying the gas I normally would have
What's the deal?
Upside wants to put your cash back where it belongs: in your wallet. So we partner with local businesses (currently gas stations and grocery stores near you) to give you deals you'll never get anywhere else:
How does it work?
Forget grocery store coupons and gas station loyalty cards. To earn cash back with Upside, all you need is your phone and your receipt.

To use Upside, just swipe with your regular credit/debit card to purchase and snap a pic of your itemized receipt. No special cards or numbers to remember. No coupons to bring.

Find cheap gas and grocery offers near you

Snap a photo of your receipt

Profit! Earn cash back, and cash out whenever you want or donate your earnings to a local charity
Give back with GasForGood!
We've heard from Upside users that they'd like to do more for their local communities – starting with the 'free money' they earn from Upside. What if that free money could be used to support the charities Upside users care about? Enter GasForGood.
Upside gives users the ability to donate their cash back earnings to local charities in lieu of cashing out via PayPal or check. Suddenly every trip to the gas station is a way for you to make a difference.
We're currently supporting the charities below:
DC-area charities: Interested in partnering with Upside to receive donations for every gallon of gas purchased by your supporters? Click here to learn more about our GasForGood program.