BP
$2.38 / Regular
12¢ /gal

Streets Market & Cafe
$10 cash back on
$50+ purchase

Shell
$2.35 / Regular
15¢ /gal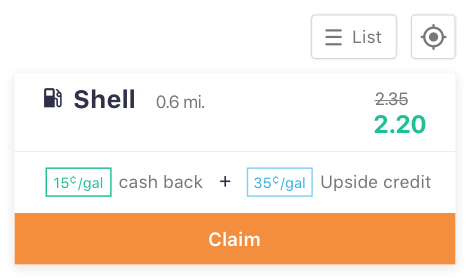 See what people are saying about GetUpside.
I am up to $36 after 4 months for not doing anything more than buying the gas I normally would have
Love this app, wish I would have found out about it sooner. I've got my whole family using it!
Thanks to GetUpside, I no longer need a Costco membership!
The PayPal deposits are really fast, and there's no minimum to cash out. I have saved almost $50!
What's the deal?
GetUpside partners with local businesses (gas stations, grocery stores, and restaurants nearby) who want to win you over with great deals you'll never get anywhere else:
How does it work?
To score the best gas prices, grocery prices, and restaurant offers with GetUpside, all you need is your phone and your receipt. There's no limit on how much you can earn, and you can even use it with other coupons, discounts, and loyalty programs!

Find offers for the best gas prices, grocery prices, and restaurant offers near you

Pay with your usual credit or debit card

Snap a photo of your receipt
Profit! Earn cash back, and cash out whenever you want via PayPal or check
GetUpside deals at gas stations, grocery stores & restaurants
See how GetUpside works at: