BP
$2.38 / Regular
12¢ /gal
Streets Market & Cafe
10% cash back on
$50+ purchase

Shell
$2.35 / Regular
15¢ /gal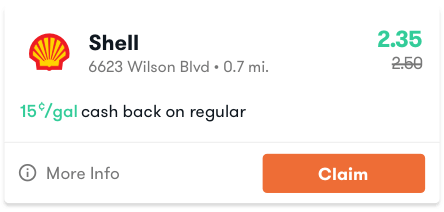 See what people are saying about GetUpside.
I am up to $36 after 4 months for not doing anything more than buying the gas I normally would have
Love this app, wish I would have found out about it sooner. I've got my whole family using it!
Thanks to GetUpside, I no longer need a Costco membership!
The PayPal deposits are really fast, and there's no minimum to cash out. I have saved almost $50!
What's the deal?
GetUpside partners with local businesses (gas stations, grocery stores, and restaurants nearby) who want to win you over with great deals you'll never get anywhere else:
Up to 25¢/gal cash back on gas
at 5,000+ gas stations in Texas, Florida, DC, Maryland, Virginia, Delaware, North Carolina, South Carolina and New York, including all the big brands (Shell, BP, Exxon, Marathon, Sunoco, etc)
Learn about gas deals

Up to 15% cash back on groceries
at grocery stores in the DC area
Learn about grocery deals

Up to 35% cash back at restaurants
at hundreds of restaurants in Houston, Austin, and the DC area
Learn about restaurant deals
How does it work?
To score the best gas prices, grocery prices, and restaurant offers with GetUpside, all you need is your phone and your receipt. There's no limit on how much you can earn, and you can even use it with other coupons, discounts, and loyalty programs!

Claim your offer for the best gas price, restaurant or grocery offer

Pay any credit or debit card

Snap a photo of your receipt or receipts if there are more than one
Profit! Earn cash back, and cash out whenever you want via PayPal, egift card or check
GetUpside deals at gas stations, grocery stores & restaurants
See how GetUpside works at:
About GetUpside
GetUpside connects you with local businesses offering the best deals on the things you need.
The businesses get more customers, and you get cash back on things you need. It's a win-win.
We are a District of Columbia startup, and we believe in the GetUpside of things.